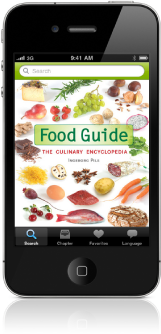 The Food Guide is your culinary adviser in an app. The program contains basic information for 2,000 foods and culinary specialties – and assists with translation when on vacation abroad. In order to know what's behind a "Lubina" on a Spanish menu, all you need is to whip out your iPhone.
Food Encyclopedia and Shopping Assistance
For every entry, the app provides at least one photo, evaluates culinary quality and indicates the scientific name, if applicable. In the description, the most important and relevant culinary information is summarized all in one place, and is followed by hints to uses in cuisine and its processing and preparation – without the App actually intending to be a cookbook.
Translation Assistance Abroad
Travelers mostly enjoy that all the food names are simultaneously given in five languages – English, French, German, Spanish and Italian. Thus, it is possible to translate menus abroad, to ask about a specific fish on a Spanish market or to look up whether Banon cheese from the cheese menu in a restaurant is made with raw milk or not.
Search by Keyword or Chapter
The Food Guide can be perused by individual ingredients, but is also organized into 21 categories such as "Fish", "Vegetables and Legumes", "Herbs and Seasonings", "Cheese", "Seafood" and "Sausages and Ham", to name just a few.

Favorites Function
Interesting findings can be transferred into an App-specific favorites list with just the touch of a finger. That way, they can quickly be found again at any time.
Runs Offline
It is not necessary to have an Internet connection to run the App. You will always have full access to all of the information, regardless of whether you find yourself on the beach on Mallorca, in a Spanish mountain village or in a delicatessen in Paris.
Food Guide Features:
Extremely attractive, easy to use interface
Multilingual dictionary with 2,000 food products and ingredients
Each entry accompanied by at least one highres picture of the product
Most entries can be viewed in full-screen size by rotating your device by 90°
Scientific names included in descriptions
Offers product knowledge and consumer reports
App has 21 comprehensive chapters
Shows 1-5 star rating of enjoyment level
Versatile search functions
'Favorites' feature lets you bookmark products that you want to return to